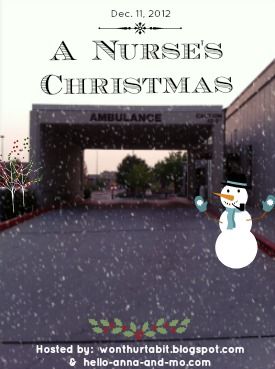 Christmas for a nurse isn't all that different from Christmas for everybody else…except that it's one of those jobs with no holidays off because there's always sick people. This year, I'm scheduled to work Christmas night and the two nights following. That's fine with me. I'll get to spend Christmas eve and Christmas day with family!
Usually the hospital unit I work on hosts a holiday party of some sort. This year there were TWO, and I missed them both because I was in Portland. Bad timing, huh? The unit I was on last year (Telemetry) had snowflakes hanging from the ceiling, mini fake trees on the nursing desk, and personalized staff stockings hung on the counters with care…in hopes that some doctors would put goodies in there.
(well, we filled them up with candy ourselves.)
I'm just going back to work tonight after a week off, so I'll find out if they get decked out or not.
Since I work Christmas night, I'm kind of tempted to get a little dressed up…
[this is Chelsea (on the right). She and I grew up and became nurses together!]
I DO own candy cane earrings though! I'll probably just stick with those.
I bet working a Christmas DAY shift would be more fun… as it is, I'll be getting there at 7 pm Christmas night.
Hi. Merry Christmas.
Here are your pills.
Go to bed.
I made a little nurse-themed wish list to share with you guys!
(I shared my blogger wishlist last week)
2. Help Remedies.
still smitten with these. I have the headache one in my locker at work. ($22)
3. heart mugs.
I have a soft spot for
anything
that has anatomically correct hearts! ($20)
4. pill socks.
perfect for work. If you wear them outside work, people might not get it. ($8)
6. personalized tumbler.
No way will your co-workers confuse their drink with yours. This would make an adorable graduate nurse gift too! ($14)
7. retro ice/hot water bag.
I want one of each! Mo likes to ice his knees after hard bike rides. These are WAY cuter than a bag of frozen peas. ($13)
8. heart cards.
I just love this print. This shop has them as a
poster
too! ($12-card, $15 poster)
———————————————————————————–
Want to continue to link-up in 2013?
so do we!
send your link-up ideas to Renee or myself and we'll do our best to include them this next year!